Personally, I believe the president when he says he never wanted to be in the car business.   I fully expect that the White House will unwind taxpayers from stakes in car companies long before we are completely and safely out of Uncle Sam's positions in banks and other financial services companies.
Congress on the other hand, these guys scare me.
The great strength of Congress is that local and regional representations may be made concerning public policy.  That parochial nature of the legislature is also its greatest weakness.  There are some big picture things that we need members of Congress to quash their urges to consider merely on the merits of "How does this affect my district?"
Today the Senate Commerce Committee will hold hearings on U.S. auto dealers affected by right-sizing efforts underway by Chrysler and GM.  Autodealers will claim something terrible has happened and Senators – especially those whose campaigns are partially funded by fat cat car salesmen – will wring their hands and agree.
If the politics stops here with a show of indignation and gnashing of teeth, we'll be O.K.  If the show gets a run in the House, then the trouble starts.  Members of the House, with their ultra-parochial world view could end up with legislation attempting to reverse dealership closings by the automakers, or worse yet, extending dealers some sort of bailout.  The bailouts need to remain at the macro level of the economy.  All we need is 435 bailout plans for this and for that.
Reuters reports ahead of today's hearing what the national organization representing car dealers will say:
General Motors Corp and Chrysler LLC, both bankrupt, will try on Wednesday to ease congressional concern, and in some cases anger, over their plans to slash more than 2,400 dealerships.

Members of the Senate Commerce Committee plan to grill GM Chief Executive Fritz Henderson and Chrysler President Jim Press about the lone aspect of restructuring that has triggered a broad response from Congress since dealers are nationwide.

"Rapid dealer reductions increase unemployment, threaten communities and decrease state and local tax revenue without any material corresponding decrease in an automaker's costs," said John McEleney, chairman of the National Automobile Dealers Association who sells vehicles made by GM, Toyota Motor Corp and Hyundai Motor Co in Iowa.
We can't dispute what McEleney says about the economic impact of auto dealers.  I've heard reported that the average employment of a new car dealership is around 50 to 60.  The point behind the pain being felt by anyone connected with the U.S. auto industry today – from boardrooms to union halls – is that the whole system was bloated.  Everyone is taking a hit.  If the industry is to regain any semblance of health, everyone needs to take a hit.
Here's hoping Congress doesn't try to micromanage the U.S. government's temporary investment in the auto industry.  We elected the president to be the executive and too many competing interests pushing for setting aside the hard choices for interest groups will just water down the whole enterprise.  What Congress should be doing is oversight.  The auto dealers shouldn't be on the Hill today, the Administration and the top management of GM should be on the Hill today explaining what this all looks like in six, twelve and 24 months.
(Source: Board of Governors of the Federal Reserve)
Current economic and financial conditions and the federal budget
Before the Committee on the Budget, U.S. House of Representatives, Washington, D.C.
June 3, 2009
Chairman Spratt, Ranking Member Ryan, and other members of the Committee, I am pleased to have this opportunity to offer my views on current economic and financial conditions and on issues pertaining to the federal budget.
Economic Developments and Outlook
The U.S. economy has contracted sharply since last fall, with real gross domestic product (GDP) having dropped at an average annual rate of about 6 percent during the fourth quarter of 2008 and the first quarter of this year. Among the enormous costs of the downturn is the loss of nearly 6 million jobs since the beginning of 2008. The most recent information on the labor market–the number of new and continuing claims for unemployment insurance through late May–suggests that sizable job losses and further increases in unemployment are likely over the next few months.
I'm surprised it took the U.S. media this long to look into what sorts of purchases U.S. lawmakers are making after hullabaloo over expenses in the U.K. Parliament.
The Wall Street Journal has what is as far as I know the opening salvo in what should be a healthy vetting by the Fourth Estate into the expense accounts of members of the U.S. Congress:
Florida Rep. Alcee Hastings spent $24,730 in taxpayer money last year to lease a 2008 luxury Lexus hybrid sedan. Ohio Rep. Michael Turner expensed a $1,435 digital camera. Eni Faleomavaega, the House delegate from American Samoa, bought two 46-inch Sony TVs.

The expenditures were legal, properly accounted for and drawn from allowances the U.S. government grants to lawmakers. Equipment purchased with office expense accounts must be returned to the House or the federal General Services Administration when a lawmaker leaves office.

But as British politicians come under widening scorn for spending public money on everything from candy bars to moat-dredging, an examination of U.S. lawmakers' expense claims shows Washington's elected officials have also used public funds for eye-catching purchases.
(Source: U.S. Dept. of the Treasury)
Introduction
Good morning.
Chairman Dodd, Ranking Member Shelby, members of the Senate Banking Committee, thank you for the opportunity to testify before you today.
On October 3, 2008, during a time of tremendous financial upheaval and economic uncertainty, Congress passed the Emergency Economic Stabilization Act (EESA) with the specific goal of stabilizing the nation's financial system and preventing catastrophic collapse. Soon after taking office, this Administration rebuilt the EESA programs from the ground up with a new foundation. We also unveiled a financial stability plan to restore the flow of credit to consumers and businesses, tackle the foreclosure crisis in order to help millions of Americans stay in their homes, and comprehensively reform the nation's financial regulatory system so that a crisis like this one never happens again.
Today, just four months into President Obama's term of office, there are important indications that our financial system is starting to heal. For example, spreads for investment grade corporate bonds have fallen about 210 basis points and spreads on high yield corporate bonds are down about 770 basis points since the end of November. Spreads on AAA municipal bonds have come down 150 basis points since October. Risk premiums in short-term, inter-bank markets have fallen 280 basis points over roughly the same period and the cost of credit protection for the largest U.S. banks has fallen by about 180 basis points just since early April. Treasury is continuing to look into additional metrics that gauge the markets more broadly, as well as additional economic metrics, to determine the effectiveness of the current strategy and whether additional or different steps are needed.
The bill, which calls for credit card agreements to be written in "plain English," and would protect consumers from abusive practices such as surprise rate increases passed the U.S. Senate by a vote of 90 to 5.  The full summary of the bill's provisions, as provided by the Senate Banking Committee can be viewed by clicking the pdf below.
(Source: Central Intelligence Agency)
There is a long tradition in Washington of making political hay out of our business. It predates my service with this great institution, and it will be around long after I'm gone. But the political debates about interrogation reached a new decibel level yesterday when the CIA was accused of misleading Congress.
Let me be clear: It is not our policy or practice to mislead Congress. That is against our laws and our values. As the Agency indicated previously in response to Congressional inquiries, our contemporaneous records from September 2002 indicate that CIA officers briefed truthfully on the interrogation of Abu Zubaydah, describing "the enhanced techniques that had been employed." Ultimately, it is up to Congress to evaluate all the evidence and reach its own conclusions about what happened.
According to the Associated Press, military commanders in Iraq and Afghanistan are giving President Barack Obama the reasoning he needs to take a log off of the torture fire.
An Obama administration official said Wednesday that the president told his legal advisers last week that releasing the photos would endanger U.S. troops. The official spoke on condition of anonymity because the discussions were private.

Obama wants the issue to go back to the courts, although federal appeals judges have ruled the photos could be released.
Is this political expediency?
Some many years ago I worked on the personal staff of a member of the House Democratic leadership. By personal staff, I mean I worked in a high profile position within his Congressional office. I did not work directly for the Dem leadership.
Still, at times I was involved with the "cool kids." I can tell you this: If one of Nancy Pelosi's top aides received a briefing from an Administration run by the other party that contained evidence that the United States was torturing detainees — and she says she never heard anything about it — she's either lying or that aide's head was in his ass.
I'm referring to a story in today's Washington Post outlining the implausible scenario detailed above. The story also points out that Pelosi's California gal pal and then ranking member of the House Intelligence Committee was also at the briefing.  Do I believe Harman and Pelosi never talked about waterboarding? Not for a minute.
But here's what a current Democratic insider said to the Post:
A Democratic source acknowledged yesterday that it is almost certain that Pelosi would have learned about the use of waterboarding from Sheehy. Pelosi herself acknowledged in a December 2007 statement that she was aware that Harman had learned of the waterboarding and had objected in a letter to the CIA's top counsel.
What's my point in all of this?  If you stand for the rule of law and you believe that the Bush Administration broke the law and harmed America's standing in the world by carrying out a torture program then you must insist that everyone involved pay a price.
Dick Cheney, David Adington, Jay Bybee and John Yoo are easy pickings for those of us railing against what was done in the name of the War on Terror and the effort to see justice served at the top levels of leadership.  It's not so easy to pick on those indirectly responsible — Congressional leaders who are there to provide a check to executive power run amok.  It's even harder when liberal darling House Speaker Pelosi is at the center of the story.  But, if she knew and turned a blind eye, she wasn't doing her job.
America did the wrong thing by sanctioning and carrying out a torture program.  We don't gain any ground by pretending it didn't happen.  We lose ground if partisan politics means seeing some of those responsible for torture get off scot free.
That includes our darling not-very gentlelady from California.
(Source: White House Press Office)
Good morning. I want to briefly share some news about our economy, and talk about the work that we're doing both to protect American consumers, and to put our economy back on a path to growth and prosperity.
This week, we saw some signs that the gears of America's economic engine are slowly beginning to turn. Consumer spending and home sales are stabilizing. Unemployment claims are dropping and job losses are beginning to slow. But these trends are far from satisfactory. The unemployment rate is at its highest point in twenty-five years. We are still in the midst of a deep recession that was years in the making, and it will take time to fully turn this economy around.
We cannot rest until our work is done. Not when Americans continue to lose their jobs and struggle to pay their bills. Not when we are wrestling with record deficits and an over-burdened middle class. That is why every action that my Administration is taking is focused on clearing away the wreckage of this recession, and building a new foundation for job-creation and long-term growth.
The Washington Times reports on a hearing regarding the Recovery Act Accountability and Transparency Board, by the House panel with oversight of the body set up by the recently enacted stimulus bill to ensure $787 billion in stimulus funds are spent wisely.
The problem is most of our elected representatives didn't bother to show up to do their jobs – stay informed about the work of the accountability board so they can adjust policy if need be.
Congressional slackers included:
Democratic Reps. Steven R. Rothman of New Jersey, Lincoln Davis of Tennessee, Charles A. Wilson of Ohio, Alan Grayson of Florida and Bart Gordon of Tennessee.
Republican Rep. Ralph M. Hall of Texas also skipped the session, while Rep. Brian P. Bilbray of California showed up for one third of the meeting.
With all of the sound and fury over the stimulus bill is it too much to ask from members of Congress to go to "important" hearings?  I know there are some hearings that they cannot attend due to votes or other hearings, but we're talking about the largest value bill ever passed.
It's insulting to the public servants on the transparency board who no doubt were there to deliver testimony to empty chairs.
Finally, to the Democrats, if we're serious about our way forward out of this recession, let's act like it.  While President Obama's efforts at greater transparency and accountability are being recognized as "change," you folks are shirking your responsibility to forward that agenda.
Bernanke Says Economy Begins Growing Near End of 2009, but growth "subpar" for some time
(Source: Board of Governors of the Federal Reserve)
Chairman Ben S. Bernanke
The economic outlook
Before the Joint Economic Committee, U.S. Congress, Washington, D.C.
May 5, 2009
Chair Maloney, Vice Chairman Schumer, Ranking Members Brownback and Brady, and other members of the Committee, I am pleased to be here today to offer my views on recent economic developments, the outlook for the economy, and current conditions in financial markets.
Recent Economic Developments
The U.S. economy has contracted sharply since last autumn, with real gross domestic product (GDP) having dropped at an annual rate of more than 6 percent in the fourth quarter of 2008 and the first quarter of this year. Among the enormous costs of the downturn is the loss of some 5 million payroll jobs over the past 15 months. The most recent information on the labor market–the number of new and continuing claims for unemployment insurance through late April–suggests that we are likely to see further sizable job losses and increased unemployment in coming months.
However, the recent data also suggest that the pace of contraction may be slowing, and they include some tentative signs that final demand, especially demand by households, may be stabilizing. Consumer spending, which dropped sharply in the second half of last year, grew in the first quarter. In coming months, households' spending power will be boosted by the fiscal stimulus program, and we have seen some improvement in consumer sentiment. Nonetheless, a number of factors are likely to continue to weigh on consumer spending, among them the weak labor market and the declines in equity and housing wealth that households have experienced over the past two years. In addition, credit conditions for consumers remain tight.
In a statement issued about noon as the Capitol was digesting the stunning turn of events, Mr. Specter said he had concluded that his party had moved too far to the right, a fact demonstrated by the migration of 200,000 Pennsylvania Republicans to the Democratic Party.

"I now find my political philosophy more in line with Democrats than Republicans," Mr. Specter said, acknowledging that his decision was certain to disappoint colleagues and supporters.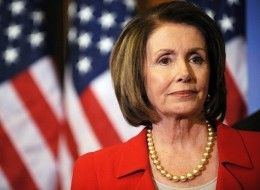 Go read Glenn Thrush's post over at Politico on whether or not House Speaker Nancy Pelosi was briefed in on the whole torture thing years ago.
She says she knew nothing, others say there is proof that she did.  The bigger picture story here is that any investigations into Bush Era lawbreaking in the realm of national security should ultimately look at what Congress and knew and when they knew it.
We elect 535 members of the House and Senate to provide some oversight and a check on executive power.  If the book hasn't already been written, someone needs to investigate thoroughly whether or not Congress was kept in the dark or bought into the Bush-Cheney culture of 'anything goes if you can sufficiently scare the bejeezus out of people.'
If Democrats look bad in this, so be it.  It doesn't hurt the party in the long run.  It may help to get some of the long-term leeches in our party back out into the real world and get some public servants elected.
Hat Tip to Glenn Thrush at Politico.
Read all about U.S. Rep. Mike Rogers, R-AL, and his kind words about Madame Speaker.  Apparently she's getting to the good soldiers in the Republican Conference.
"Mean as a snake?" Maybe.  This one is no Tom DeLay, though.  Not a single indictment during her whole career.
I thought this was interesting amid all the failed state stuff out there:
EL PASO — Sen. John Kerry and two members of his Foreign Relations Committee heard a clear message Monday in El Paso: Sending U.S. soldiers to the Mexico-U.S. border is unnecessary.

Speaking almost with one voice, police officers, politicians and border experts who testified at a Senate field hearing said a military buildup would be of no help as the United States tries to assist Mexico in its war against the drug cartels.
This bill is being heralded as the "Global Warming Bill."  This 'discussion draft' was released today by U.S. Representatives Henry Waxman and Edward Markey.  Some people will likey, some others will go batshit.  Enjoy:
Today's flailing about by Congressional Republicans while trying to get their stuff together on the budget is telling.
These poor folks haven't figured out that we don't really care what their plans or blueprints are to solve America's biggest problems.  They had their chance and they blew it.  With the exception of allowing more permissiveness by bankers and brokers, President Barack Obama is doing what we elected him to do – big things like health care, a new energy future and long overdue tax breaks for the middle class.
The one thing they could be making political hay on but are as missing in action as Democrats, is the patent injustice in how Wall Street continues to be taken off the hook for totally screwing up the entire world economy.  Perhaps they're as beholden to the campaign cash that flows from the nation's financial districts as the Democrats are – that's the only plausible reason for such an unfair state of affairs.
My advice to Republicans goes like this:  If you are serious about being the loyal opposition and doing something worthwhile for America, fight these bailouts.  I don't know a single soul in myown life that believes there is any accountability being sought from the AIGs and Citis of the world from the Obama Administration.  The TALFs, PPIPs, TARPs and other assorted bailouts have one thing in common – when they fail taxpayers' funds are gone.  Even Treasury's latest toxic asset program floats the private sector our money with no downside risk to investors.
Republicans have made a generation's worth of headlines fighting the culture war, battling over ridiculous things like Terri Schiavo and homosexuality.  How about if Republicans stood up for some values that truly all Americans believe in – fairness, level playing fields and consequences for companies that screw the entire country over.
The fact is, the GOP has no credibility on most public policy.  However, there is a vacuum of representation in Washington for ordinary Americans and their money when it comes to bailing out the financial services industry.  I would cheer a loyal opposition that doesn't roll over and play dead for corporate bailouts even if they politically postured on everything else.  I sure as hell wouldn't become a Republican, but I'd at least respect the once respectable GOP.
Congressman Mike Pence, R-IN, was becoming known as the great hope of fiscal conservatives during the last Congress and with the last president.
A budget alternative released today by House Republicans, and reportedly primarily authored by Pence, shows just how little the once formidable GOP has to offer in the public policy arena – and how even once thoughtful conservatives such as Pence are flailing about, adrift.
The major Republican problem is that the current slate of emergencies facing the country – financial crisis, recession, Iraq, Afghanistan – is of their doing.  Granted, the financial crisis finds its roots in Clinton era permissiveness regarding Wall Street and the traditional roles of bankers, insurers and brokers.  But let's not forget the greatest Republican icon of the once booming economy, Alan Greenspan.  Let's not also forget that for several years, as Wall Street piled excess upon excess, Republicans controlled both houses of Congress and the White House.
Recent polling shows Americans still put these problems at the feet of Republicans.  What's more, the Wall Street Journal-NBC News poll from March 3, shows most Americans believe Republican efforts against President Barack Obama's agenda are more for political gain than for standing on principle. Today's Republican plan, released this morning, became a blueprint by the end of the day.  Why? Because it doesn't even answer the basics, like where will the deficit be down the road.
Glenn Thrush over at Politico has a great post today about the Republican infighting over the budget and Pence and Minority Leader John Boehner's rush to make a political statement rather than offer a real alternative.  In their rush, they seem to have stepped all over fellow Republican leaders Eric Cantor's and Paul Ryan's efforts to build a real alternative plan.
If this sort of thing keeps up, I predict a fractured Republican Conference and changes in leadership before there's ever a substantive change in the makeup of the House of Representatives.